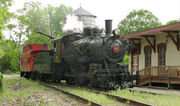 Wilmington & Western 98 is a 4-4-0 american type locomotive
Engine 98 was built by the American Locomotive Company of Schenectady, N.Y., in January 1909.She worked in passenger service on the Mississippi Central before being retired in December 1944. Paulsen Spence purchased No. 98 in 1947 for the Comite Southern, and later the Louisiana Eastern. She was purchased for the Wilmington & Western in 1960 and retured to service in 1972. Today, she still hauls excursions on the Wilmington & Western.
Ad blocker interference detected!
Wikia is a free-to-use site that makes money from advertising. We have a modified experience for viewers using ad blockers

Wikia is not accessible if you've made further modifications. Remove the custom ad blocker rule(s) and the page will load as expected.