Wilmington & Western 58 is an 0-6-0 switcher type locomotive.
Engine No. 58 was built by the Baldwin Locomotive Works of Philadelphia in October 1907 for the Atlanta, Birmingham & Atlantic Railroad. She later became Atlanta, Birmingham & Coast No. 27. The locomotive was eventually sold to the U.S. Army and wore the number 6961, and was sold again to the Virginia Blue Ridge Railway and became their No. 4. She was later purchased by the Mead Corporation of Lynchburg, Va., and renumbered 300. In 1963, Malcolm Ottinger purchased No. 300 for his Valley Forge Scenic Railroad. The engine was then purchased for the Wilmington & Western in 1973 and renumbered to 58 its original number. She returned to service in 1998 and has been operating ever since.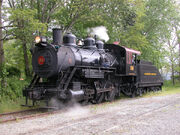 Ad blocker interference detected!
Wikia is a free-to-use site that makes money from advertising. We have a modified experience for viewers using ad blockers

Wikia is not accessible if you've made further modifications. Remove the custom ad blocker rule(s) and the page will load as expected.