Reading #2101

Built

1923, 1945

Class

T-1

Configuration

4-8-4

Retired

1956

Disposition

Static Display
Reading 2101 is a T-1 class 4-8-4.
2101 was built in the reading shops in 1945. She is one of four surviving Reading T-1 class locomotives. She was used mainly for fright service in the 1950s. She was schedualed to operate during the Reading's Iron Horse Rambles but never operated. She waas then sold to engineer Ross Rowland in 1975. In 1975 & 1976 she was operated as American Freedom Train #1 for the bicentennial celebration. In 1977 & 1978 she was repainted in to the chessie system paint scheme to be used as the Chessie Steam Special engine. In Febuary of 1979 she was damaged in a roundhouse fire. She was later sold to the B&O Railroad Museum where she was cosmetically restored to her American Freedom Train look. Today she still sits at the museum with her freedom train paint scheme.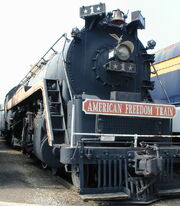 Ad blocker interference detected!
Wikia is a free-to-use site that makes money from advertising. We have a modified experience for viewers using ad blockers

Wikia is not accessible if you've made further modifications. Remove the custom ad blocker rule(s) and the page will load as expected.