Pere Marquette #1223

Built

1943

Class

N-1

Configuration

2-8-4

Retired

195?

Disposition

Static Display
Pere Marquette 1223 is one of two surviving Pere Marquette 2-8-4s. She was built by the Lima Locomotive Works in 1941. The 1223 is a sister engine to the 1225. She was last used in 1951 and was first placed on static display at the state fairgrounds in Detroit. Later she was moved to Grand Haven where she sits now.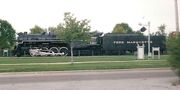 Ad blocker interference detected!
Wikia is a free-to-use site that makes money from advertising. We have a modified experience for viewers using ad blockers

Wikia is not accessible if you've made further modifications. Remove the custom ad blocker rule(s) and the page will load as expected.