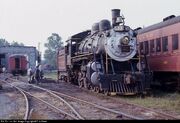 New Hope & Ivyland 1533 is a 4-6-0 ten wheeler type steam locomotive
1533 was built by the Montreal Locomotive Works in 1911. She first worked for the Canadian National Railway where she mainly hauled fright. She was sold to the New Hope & Ivyland of New Hope, Pa in 1962. 1533 was the railroads work horse until 1975 when she was retired. Today she is stored behind the New Hope & ivyland shops.
Ad blocker interference detected!
Wikia is a free-to-use site that makes money from advertising. We have a modified experience for viewers using ad blockers

Wikia is not accessible if you've made further modifications. Remove the custom ad blocker rule(s) and the page will load as expected.