Nashville, Chattanooga & St. Louis #576

Built

1942

Class

J3-57

Configuration

4-8-4

Retired

1957

Disposition

Static Display; Candidate for Restoration
NC&StL 576 was built by the American Locomotive companey in August 1942. She is the only survivng NC&StL steam locomotive today. She is on Static isplayn at Centennial Park in Nashville, Tennessee.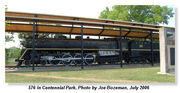 Ad blocker interference detected!
Wikia is a free-to-use site that makes money from advertising. We have a modified experience for viewers using ad blockers

Wikia is not accessible if you've made further modifications. Remove the custom ad blocker rule(s) and the page will load as expected.