Chicago, Burlington & Quincy #5629

Built

1940

Class

O5-B

Configuration

4-8-4

Retired

?

Disposition

Static Display
Chicgo Burlington & Quincy was built in the CB&Q west burlington shops in 1940. The engine was mainly used for heavy fright and passenger service until the early 1960s. She is now on display at the Colorado Railroad Museum in Golden, Colorado.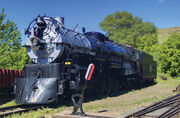 Ad blocker interference detected!
Wikia is a free-to-use site that makes money from advertising. We have a modified experience for viewers using ad blockers

Wikia is not accessible if you've made further modifications. Remove the custom ad blocker rule(s) and the page will load as expected.