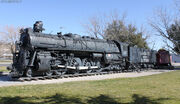 Atchison, Topeka & Santa Fe #3759

Built

1928

Class

3751

Configuration

4-8-4

Retired

1953, 1955

Disposition

Static Display
The Atchison, Topeka & Santa Fe #3759 is the surviving sister engine to #3751.
The 3759 was built in 1928 by the Baldwin Locomotive Works after the 3751's initial success. The engine had a normal career, and was retired in 1953. But in 1955, the engine was temporarilly operational for a "Farewell to Steam" program, making it the last steam locomotive operational on the Santa Fe. After that, it was donated to Kingman, Arizona for display, where it still resides.



Ad blocker interference detected!
Wikia is a free-to-use site that makes money from advertising. We have a modified experience for viewers using ad blockers

Wikia is not accessible if you've made further modifications. Remove the custom ad blocker rule(s) and the page will load as expected.