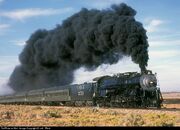 Atchison, Topeka & Santa Fe #3751

Built

1927

Class

3751

Configuration

4-8-4

Retired

1953

Disposition

Operational
Atchison, Topeka and Santa Fe #3751 is the oldest surviving 4-8-4 in the world.
The #3751 was not only the first Santa Fe 4-8-4, but was also the Baldwin Locomotive Works' first 4-8-4. Built in 1927, it was the prototype for future 4-8-4s. The Santa Fe was very impressed by it's performance that it soon ordered more "notherns" (4-8-4s). It was rebuilt in 1936 so it could burn oil. After a 26 year career, the engine was retired in 1953 and donated to San Bernardino, California.
In 1985, the 3751 was purchased for restoration. After six years, the engine moved under it's own steam in 1991. It has since been operational.
Ad blocker interference detected!
Wikia is a free-to-use site that makes money from advertising. We have a modified experience for viewers using ad blockers

Wikia is not accessible if you've made further modifications. Remove the custom ad blocker rule(s) and the page will load as expected.